"You really get to see a great cross section of the entire automation industry at Automate, along with the latest technologies that are making an impact on manufacturing today."
Held once every two years in the United States, Automate is the broadest automation solutions event in North America, affording the best overview of the entire industry. Featuring the latest in cutting-edge robotics, vision, motion control, and related technologies, the event attracts thousands of visitors from around the world looking for ways to enhance their processes, improve product quality, lower costs, and sharpen their competitive edge.
Exhibits
Come see over 450 exhibitors showcasing the latest in automation technologies, including:
AC Drives
AC Motors
Actuators & Mechanical Systems
Automated Assembly Machines/Systems
Automatic Identification & Data Collection/RFID
Cables/Cable Assemblies/Connectors
Cameras
Camera and Lighting Enclosures
Collaborative Robots
Controls
Consulting Services
Drives and Amplifiers
Electronic Drives
End of Arm Tooling
Engineering Services
Frame Grabbers & Processing Boards

Lasers
Lighting Equipment
Metrology
Mobile Robots
Motion Controllers
Motors
Optics & Lenses
Parts Handling Equipment/Conveyors
PLCs
Robots/Robotic Systems
Safety & Ergonomic Equipment
Sensors & Feedback Devices/Systems
Simulation Software
Software
System Integrators
Training Services
Vision Systems
Education
The Automate Conference provides practical training that you can put into practice right away. Classes are taught by experienced professionals who know your challenges. Take one class or four full days of training, this highly valuable training experience is immediately worthwhile.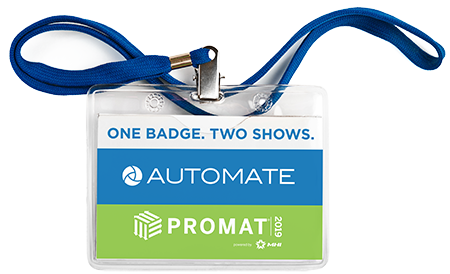 One badge. Two shows.
Your Automate badge gets you free entry into ProMat, North America's premier material handling and supply chain solutions show.