EDUCATOR DAY
The Association for Advancing Automation (A3) is excited to announce the Automate 2024 Educator Day at the Automate Show on Wednesday, May 8 from 10:15 AM to 5:00 PM CT.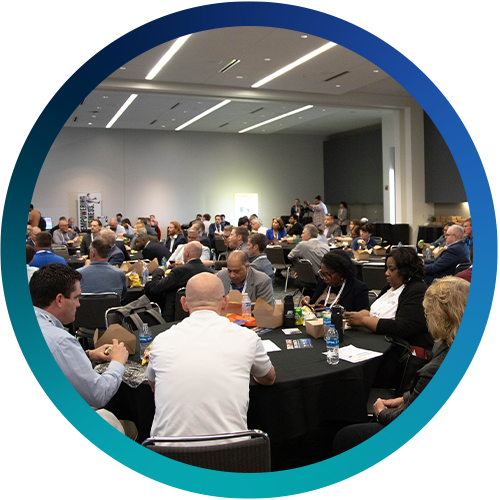 JOIN AUTOMATION EXPERTS & EDUCATORS
Learn about the latest in automation education. Network with educators, industry leaders and representatives from national workforce organizations, robotic contests and educational training companies. Get hands-on with solutions from the world's top robotic and automation companies. Space is limited, so reserve your spot today!
Automate 2024 Educator Day
10:15 AM to 5:00 PM CT, Wednesday, May 8, 2024
McCormick Place, Chicago, IL
Please note: Participation in Educator Day is free for show registrants but limited to current professionals in not-for-profit educational institutions only. Reservations will be accepted through Friday, April 26 and spots confirmed by Friday, May 3.
EVENT AGENDA & HIGHLIGHTS
This exciting event will feature leaders of the robotics and automation industry discussing the latest trends in robotics and automation, workforce developments and their existing and new educational equipment and curriculum. Here's a sneak peek of the day (subject to change):
Wednesday, May 8, 2024

9:00 a.m. - 9:45 a.m. CT
Automate Show: KEYNOTE
9:45 a.m. - 10:15 a.m. CT
Educator Day Check-in
10:15 a.m. - 10:45 a.m. CT
Welcome, Connect, Learn:
A3 Introduction and Curriculum Highlights
10:45 a.m. - 11:30 a.m. CT
Equipping Teachers for Automation Success:
A Look at Classroom Initiatives
11:30 a.m. - 11:45 a.m. CT
Break
11:45 a.m. – 2:00 p.m. CT
Luncheon
Exhibitor Showcase
Tabletop Exhibits
2:00 p.m. - 2:30 p.m. CT
The Industry Needs You
A3 Program & Thank You
2:30 p.m. - 4:00 p.m. CT
Automate Show Tour
4:00 p.m. - 5:00 p.m. CT
CEU Pick-up
News & Insights
Get an inside look at how automation is transforming the ag industry. Learn about the trends driving this shift and what farmers are using to stay competitive.
Read more »
Overcome common business challenges & find success with automation. Explore how automating processes can help.
Read more »
Automation is now emerging in virtually every industry.
Read more »