Kane Robotics and FerRobotics to Demo Sanding, Grinding, Finishing Cobot Solution at Automate 2023
Chino, Calif., May 22, 2023 – Kane Robotics launched a collaborative robot (cobot) solution that dramatically improves productivity, reduces health risks and solves labor shortage issues on manufacturing shop floors. It will demo the solution with FerRobotics GmbH's ACF-Kit cobot end-effector to sand and polish various industrial components at Booth #3813 during Automate 2023, the nation's largest automation event, May 22-25, 2023, in Detroit.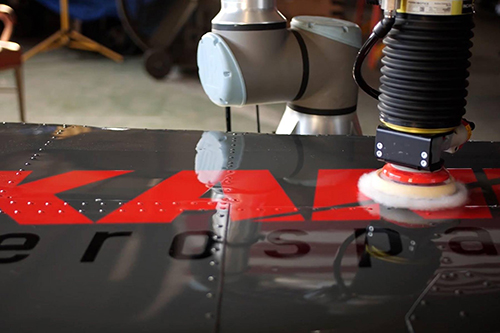 The first cobot solution innovated specifically to solve challenges in composites sanding, Kane's GRITTM cobot works alongside humans to perform sanding, grinding, polishing, deburring and other labor-intensive material removal for any size manufacturer in a variety of industries.
The GRIT cobot solution has helped manufacturers complete jobs such as:
sanding primer from machine components
removing coating and sanding surfaces for paint preparation or repairs on helicopter main rotor blades.
polishing fighter jet canopies to remove coatings and achieve optical clarity [see video]
deburring metal castings and other parts
Robotic surface finishing solutions must be flexible and sensitive. FerRobotics' ACF-Kit cobot end-effector used on GRIT combines both – a variety of tools to perform tasks like those mentioned above and FerRobotics' patented Active Compliant Technology® (ACT) that maintains the defined contact force following the surface. Even when sanding on complex-shaped geometries. FerRobotics' autonomous contact intelligence, plus a sensationally adaptable stroke of 35 mm, simplifies job modulation for every GRIT user and reduces programming effort.
Unlike traditional industrial automation, GRIT solutions are reconfigurable for different tasks and, with three sizes, the cobots can accommodate a wide variety of jobs. They are accessible even for smaller manufacturers; a GRIT system requires a modest investment with a 100% ROI after as little as six months.
GRIT solutions are designed for ease of use and require no specialized expertise to install, operate or program. The practical system is compact and mobile and plugs into 110V electrical outlets. It can be operated by almost any manufacturing technician and be up and running in almost any manufacturing facility within hours or days rather than months or years.
"Manufacturers require extremely precise sanding, grinding, polishing and finishing work to ensure parts meet regulatory requirements and achieve top performance. Kane Robotics' GRIT cobot solutions provide the highest quality work, plus save teams from injuries and illness by filling those repetitive, labor-intensive jobs that humans don't want to do," says Kane CEO John Spruce.
With FerRobotics' patented Active Compliant Technology®, all kinds of robots adapt themselves to complex surfaces with automatic force dosing. Moving objects or spontaneously occurring counterforces are optimally compensated by the FerRobotics end-effector.
"Transferring human competencies to ACT-equipped robots for sensitive application possibilities leaves unimagined opportunities for companies and processes," says FerRobotics Founder and President Dr. Ronald Naderer.
Kane was sought out by partners Applied Automation and ATI Industrial Automation and technology leader FerRobotics (Booth #3813) to exhibit GRIT cobots in each of their booths at Automate 2023 because GRIT operationalizes their products in realistic scenarios by providing turnkey solutions.
Contact Kane at https://kanerobotics.com/contact/.
About Kane Robotics
Since its founding in 2019, Kane Robotics has collaborated with manufacturers in aerospace, defense and other industries to simplify material removal processes through automation, creating the first collaborative robot (cobot) built specifically for composites sanding. Kane's reconfigurable and easy-to-operate cobots work alongside humans to perform safe and precise sanding, grinding and finishing. The compact, mobile and affordable cobot solutions are accessible to all sizes and types of manufacturers and offer a pragmatic way to dramatically increase productivity, improve safety and fill job vacancies for dangerous, repetitive and labor-intensive tasks. With extensive experience in aerospace and defense, Kane's industry experts are considered some of the top minds in the world for automation in sanding and composites. Learn more about Kane's cobot solutions at https://kanerobotics.com/.

About Applied Automation
Applied Automation is your trusted partner when it comes to robotics, vision, motion control, and IIoT. Our local companies provide you with the products and solutions you need in manufacturing and have the national coverage to help all of your facilities no matter where they are in North America. We provide products, assemblies, and turnkey solutions in key categories to help you compete. Visit https://shop.appliedindustrialautomation.com/
Back to Exhibitor News