Soft Robotics Demonstrates mGripAI™ at Automate 2023
Featuring: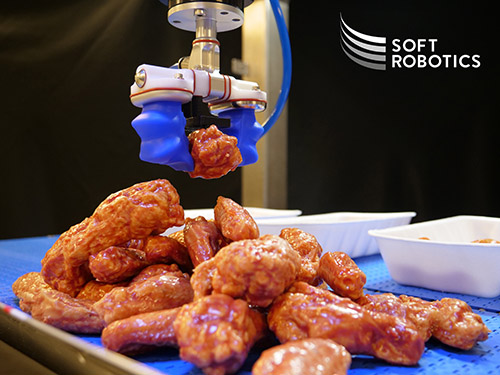 Bedford, MA – (May 17, 2023) - Soft Robotics Inc., a leader in AI-enabled picking solutions developed specifically for the food industry, will be demonstrating mGripAI at Automate, May 22-25, at Huntington Place, Detroit, Michigan in booth 818.
By combining proprietary and industry-proven 3D vision, artificial intelligence, and soft grasping technologies into an easy-to-integrate, IP69K-rated solution, mGripAI enables system integrators and OEM machine builders to automate otherwise off-limits production processes using industrial robots now empowered with the sensory, cognitive, and dexterous abilities of human workers.
At this event, Soft Robotics will demonstrate two mGripAI-powered applications in its booth:
Tray Packing Chicken Drumsticks Directly from Bulk - Picking, orienting, and packaging of raw poultry product from bulk at rates of up to 60 units per minute.
Case Packing Sausages from Bulk - 3D bin picking, sorting, and orienting packaged sausages at rates of up to 24 picks per minute.
Soft Robotics will also feature the mGripAI no-code interface which enables any machine builder to leverage the power of AI in complex picking applications. "Ease-of-deployment is at the core of every mGripAI system," said Austin Harvey, Vice President of Product and Marketing at Soft Robotics. "It is now easier than ever for machine builders to deploy AI-enabled solutions and leverage complex object understanding for high-speed picking applications."
mGripAI Key Benefits:
Reduces dependency on unavailable labor
Saves floor space
Increases throughput
Reduces food waste
About Soft Robotics
Soft Robotics is an industry-leading technology company that designs and builds automated high-speed picking solutions using 3D machine vision, artificial intelligence software, and proprietary soft robotic grippers. The company's transformational solutions enable System Integrators, OEM machine builders and End Users to automate complex production processes in the food industry.
Soft Robotics is backed by leading venture capital firms and strategic investors that include ABB Technology Ventures, Calibrate Ventures, FANUC, Honeywell Ventures, Hyperplane Venture Capital, Johnsonville, Marel, Material Impact, Scale Venture Partners, Tekfen Ventures, Tyson Ventures and Yamaha Motor Co., Ltd.
Learn more at www.softroboticsinc.com.
Back to Exhibitor News