SCHNEEBERGER Spotlights Latest Innovative Linear Motion Solutions at Automate 2023
Featuring: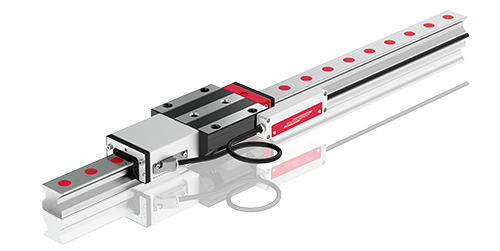 WOBURN, MASS. — May 22, 2023 — SCHNEEBERGER spotlights its industry-leading precision linear positioning and motion systems, solutions, and deep engineering expertise at Automate, May 22–25, 2023, in booth 4944. Featured are: SCHNEEBERGER MINIRAIL miniature guideways, MONORAIL AMS distance measuring system, gear racks, linear and linear roller guideways, SLA Actuators, mineral cast machine foundations, and more.
When linear technology components are designed as a system to work together, they create the most effective solution for machine automation. As a result, SCHNEEBERGER systems and solutions enable OEMs to accelerate their design and manufacturing, reduce assembly time and labor — and achieve a lower total cost of ownership.
Among the solutions featured at Automate are SCHNEEBERGER's:
MINIRAIL miniature guideways provide high precision, robustness, reliability, and versatility. As a result, MINIRAIL guideways are ideal for medical equipment, additive manufacturing, and other applications when space is at a premium and where high acceleration and/or extreme load values are involved.
Integrated MONORAIL AMS measuring head and scale for MONORAIL profiled linear guideways makes precision distance measurement possible when space constraints and performance. MONORAIL AMS solutions boast a 25-year track record as proven technology, are machine-compatible and ready to install to reduce the lifetime costs of mechanical engineering and automation applications.
MONORAIL BM profiled linear guideways (with balls) deliver maximum precision and increased service life — with minimal maintenance. All carriages feature longitudinal cross wipers for efficient sealing against dirt and debris.
MONORAIL MR profiled linear roller guideways feature high precision, high rigidity, great dynamic and static load carrying capacity, outstanding running smoothness, and total enclosure of the carriage as required for use worldwide in many machine tool applications. The results: Higher machining rates and enhanced geometrical accuracy and surface quality for workpieces, and improved vibration behavior and smaller vibration amplitudes for extended tool life.
Gear racks enable linear movements over almost limitless stretches. They are well-suited to use in large machines and systems as an economical solution when machine components with large axial forces require long linear movement with consistent stiffness over the rack length. Dirty working environments are no problem, and there are cost-efficient solutions for all applications.
Super-compact SLA Actuator offers high-performance linear positioning at an economical price. The actuator uses recirculating ball linear guides, which provide smooth motion and high load capacity. A ball screw version is available for higher speeds and duty cycles. Various leads are available for both the lead screw and ball screw versions.
Mineral Cast machine foundations are the carbon-reducing, environmentally sustainable organic solution to achieve exceptional vibration damping for advanced automated machinery operation while promoting OEM ESG goals. Applications include metal grinding machines and manufacturing machinery for the solar, electronics, packaging, and medical device industries.
All SCHNEEBERGER solutions at the Automate show are immediately available. For more information, visit SCHNEEBERGER at Automate, booth 4944, on the web at www.schneeberger.com, or call 1-800-854-6333.
About SCHNEEBERGER Inc.
SCHNEEBERGER® Linear Technology has been offering precision innovative linear motion solutions since 1923. Headquartered in Switzerland with its U.S. base in Woburn, Massachusetts, the group operates worldwide as an established OEM supplier in several sectors. Its high-quality standard and customized offerings include linear bearings, profiled guideways, measuring systems, gear racks, ball screws, positioning systems, and mineral casting. Visit www.schneeberger.com.
Back to Exhibitor News