ROBOTIS appearing at Automate for the first time and will feature live demonstrations of ROBOTIS' next generation products
Featuring:
Lake Forest, California – ROBOTIS, a world-leading provider of robotics solutions and exclusive manufacturer of DYNAMIXEL smart servos, has announced that they will attend the Automate 2023, held at the Huntington Place Convention Center in Detroit from May 22nd to 25th. TheAutomate Expo is the largest industrial automation trade show in North America, showcasing the latest technologies in automation, and robotics and provides a platform for industrial automation manufacturers and integrators to see new technologies first-hand.
This marks ROBOTIS' first appearance at the Automate Show, to promote the company's renewed focus on the rapidly developing industrial automation market. ROBOTIS' DYNAMIXEL actuators have a long history of proven performance in the Defense and Aerospace industries, and their entry into this market is poised to make a significant impact in the space, and drive a new wave of development in low-cost, high-precision automation solutions. DYNAMIXEL actuators provide small and Medium Enterprises (SMEs) with enhanced flexibility and ease of use, allowing independent businesses the opportunity to create custom, scalable, machine tending and material handling solutions perfectly fitted to their applications. The streamlined DYNAMIXEL framework makes it as easy as possible to create fully customized automation solutions that bridge the gap between full-scale industrial robots or cobot platforms.
ROBOTIS' booth will feature showcases of their DYNAMIXEL brand of servomotors, and the DYD Cycloidal Gear Reducer, comparable to Harmonic Drive strain wave gears. The DYD is a unique high-precision reduction solution developed especially for industrial robotics applications, delivering high output torque and repeatability while maintaining a compact size. The DYD features low-backlash performance, reducing mechanical strain and increasing precision. ROBOTIS' (booth # 6136, located near the Automate LIVE! Broadcasting booth) will also feature demonstrations from a few of ROBOTIS' partner organizations, and the North American debut of ROBOTIS' next-generation DY industrial actuators, providing a high-powered actuator with an integrated DYD gear reducer in a variety of customizable configurations.
ROBOTIS invites all attendees to visit their booth to see these products in action and learn about the company's extensive line of cutting-edge robotics solutions. Organizations interested in using the DYD Cycloidal Gear Reducer, or any other ROBOTIS products in their application can contact [email protected] with inquiries, or to schedule an appointment to discuss it in person at Automate 2023.
About ROBOTIS
ROBOTIS has been devoted to creating a better world by advancing the field of robotics for over two decades. The company has dedicated itself to "The study of human experiences" to enable the creation of robotics technology that helps humanity further itself, and better the world. Their innovative solutions have been implemented across a variety of industries such as manufacturing, aerospace engineering, and animatronics. The company maintains a strong commitment to customer satisfaction and technological excellence and is currently advancing autonomous robotics technology with its cutting-edge GAEMI AMR delivery and service robot platform.
About Automate
Automate is a trade show and conference produced by the Association for Advancing Automation (A3). It is proud to be the largest solutions-based showcase of automation, robotics, vision, motion control and other automation technologies in North America. www.automateshow.com
For More Information
Visit Booth #6136 at Automate 2023
Jonathon Curl, Technical Sales
[email protected]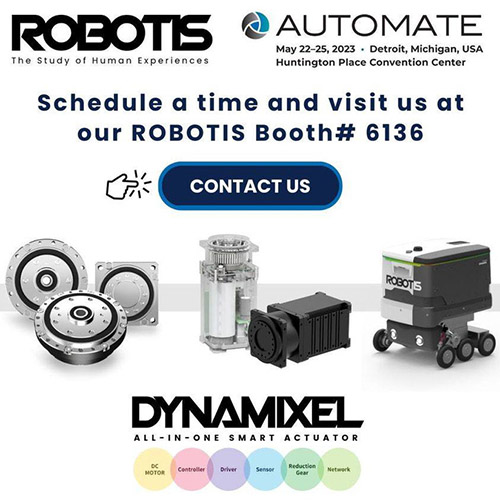 Back to Exhibitor News