Productive Robotics' OB7 Cobot Unlocks Automation With 'No Programming' Approach At Automate 2023
Featuring: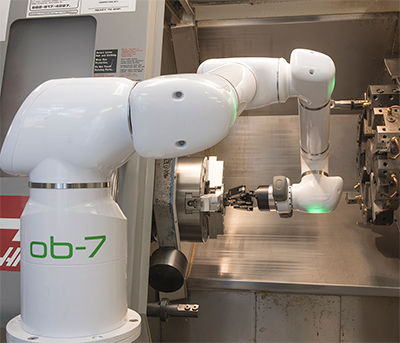 SANTA BARBARA, California (May 2, 2023) Collaborative robots are bridging the labor shortage with the capability to perform myriad tasks. To help job shops and contract manufacturers access the technology, OEMs are working to develop models that are more cost competitive and easier to program. Productive Robotics designed its budget-friendly Made in the USA cobots to eliminate the need for programming and complex integration. The company will demonstrate its OB7 models, showcase OB-Vision and allow visitors to test-drive its cobots at Automate 2023, Booth #2844.
"Cobots augment and enhance a fabricator's capabilities with precision, repeatability and tireless performance, freeing employees from tedious, repetitive activities so that they can provide more value to the organization in other roles," says Zac Bogart, president of Productive Robotics. "Because we have removed the need to program OB7, any employee can show the cobot what to do by walking it through the steps of a task. The teach-by-touch design allows our cobots to learn jobs in just minutes."
Welding, gluing, deburring, material handling, packing, palletizing, and part marking are just some of the activities Productive Robotics' cobots can perform for industries that include medical devices, food and beverage, miscellaneous metals and machinery. Unlike traditional 6-axis cobots, OB7 has been engineered with 7-axis maneuverability giving fabricators a new level of flexibility and accessibility. It needs no cage, and is able to work alongside human operators because it can sense collisions at every joint, a function that triggers a safe stop.

The OB7 can also be stopped with an operator's hand and restarted with a tap on one of its joints. When running at collaborative speeds, guarding is not required. For high-speed operations, a laser safety scanner is available.
To automate OB7, fabricators can add a Productive Robotics parallel electric gripper/end effector, patented robot rolling stand and work table. The cobot is also compatible with other grippers, cameras and accessories. Machine tending packages provide fabricators a complete solution for automation. Installation of the OB7 can take approximately two hours.
Productive Robotics LLC designs and manufactures industrial collaborative robots and accessories for a wide range of markets. Productive Robotics' augmented intelligent machines—the OB7, OB7 Stretch model, MAX 8 and MAX 12—are the only cobots on the market designed and built in the U.S. A proprietary, "no programming" user interface allows fabricators and job shops to teach the cobot by simply showing it each step of a task or job. The plug-and-play machines are engineered to work with new or legacy equipment and have the flexibility to perform both simple and complex activities. Productive Robotics' cloud analytics system streamlines connectivity requirements for nimble data collection and reporting. Installation for the kitted OB7 cobots is simple and quick, and can be performed whether an application calls for repetitive part work, tending a CNC machine or manning a lights out operation.
Visit www.productiverobotics.com or call (805) 244-9300.

Back to Exhibitor News