New KUKA KMP 600 AGV Debuted in Palletizing/Depalletizing Cell at Automate
Featuring: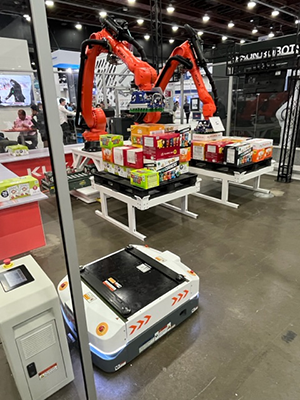 SHELBY TOWNSHIP, Mich., May 26, 2023 – During Automate 2023, KUKA Robotics highlighted its newly launched KMP 600-S diffDrive mobile platform automated guided vehicle (AGV) system. The new AGV was partnered with a KUKA KR IONTEC robot in a cell developed by Mujin for efficiently palletizing and depalletizing consumer goods. To coordinate robot movement, the cell incorporated a Mujin controller and camera system.
With an operating speed of up to two meters per second, the KUKA KMP 600-S diffDrive mobile platform is fast and uses laser scanners and 3D object detection to meet the highest safety requirements, taking industrial intralogistics to new levels. Its payload capacity is up to 600 kilograms, and the vehicle requires no safety fencing to provide maximum freedom of movement for employees, while laser scanners mounted at the front and rear ensure safe operation at high speeds in all directions of travel when cycle times require it.
For fully automated palletizing/depalletizing, KUKA's KR IONTEC medium payload robot is a highly flexible robot with the best work envelope in its class. The robot is suitable for a vast array of industrial applications including handling, packing and palletizing for fast, efficient stacking.
Whether on the floor, on the wall or inclined, the KR IONTEC combines compact design with the largest working envelope in its class for optimal use of space with a small footprint. Equipped with a waterproof and dustproof in-line wrist and protected motors, the robot is suitable for almost every production area.
As with all the company's automation solutions, those shown at Automate 2023 are backed by KUKA's expert service and support for training, complete system engineering and simulation, readily available spare parts, robot refurbishment and more. All of which are easily accessible through the my.KUKA.com site, and KUKA maintains corporate offices and production operations, along with integration partner facilities, conveniently located throughout North America to provide responsive customer service and support.
KUKA
KUKA is a global automation corporation with sales of around 3.3 billion euro and roughly 14,000 employees. The company is headquartered in Augsburg, Germany. As one of the world's leading suppliers of intelligent automation solutions, KUKA offers customers everything they need from a single source: from robots and cells to fully automated systems and their networking in markets such as automotive, electronics, metal & plastic, consumer goods, e-commerce/retail and healthcare.

Back to Exhibitor News