KUKA Shows Airskin Robot Safety System at Automate 2023
Featuring: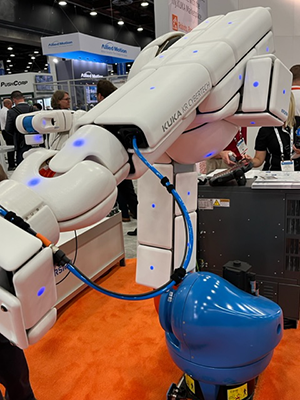 SHELBY TOWNSHIP, Mich. – Because robot safety is always a critical aspect of automation, KUKA Robotics spotlighted the Airskin safety technology on two industrial robots during the Automate 2023 show. The demonstration showed the safe collaboration between humans and industrial robots and featured KR AGILUS and CYBERTECH robots outfitted with Airskin working in a 13-foot open space, performing part handling and visual inspection.
Collaborative robots cannot serve many high industry demands because they work at significantly slower speeds and with lower payloads than industrial robots. However, with Airskin, faster industrial robots are as safe to work in close proximity as cobots.
In operation, Airskin technology will slow a robot's motion as a human approaches or stop that motion if the individual comes closer or touches the robot. The system consists of air cushions specially adapted to a robot, in which internal cushion pressure is constantly monitored. If contact occurs, the internal pressure changes by pressing in the air cushion and the Airskin is actuated.
Airskin guarantees safe collaboration between robots and humans, even with payloads of several 100 kg. KUKA'a robot controller and the company's KUKA.SafeOperation technology package ensure smooth, seamless interaction between all components of the Airskin system.
Among the companies benefiting from Airskin, Skyline Robotics relies on the technology for its Ozmo automated skyscraper window washing system. Ozmo combines KUKA robots, artificial intelligence, machine learning, computer vision, robotic control and an array of sensors to create a system that offers a safer alternative to human window washers.
KUKA
KUKA is a global automation corporation with sales of around 3.3 billion euro and roughly 14,000 employees. The company is headquartered in Augsburg, Germany. As one of the world's leading suppliers of intelligent automation solutions, KUKA offers customers everything they need from a single source: from robots and cells to fully automated systems and their networking in markets such as automotive, electronics, metal & plastic, consumer goods, e-commerce/retail and healthcare.

Back to Exhibitor News