KUKA QUANTEC Robot Performed Large-scale 3D Printing at Automate 2023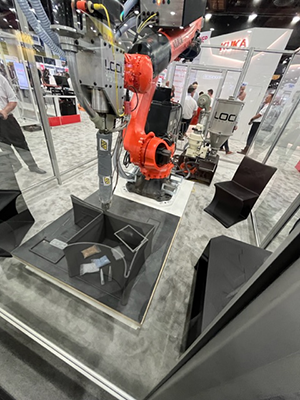 SHELBY TOWNSHIP, Mich., May 26, 2023 – As an easy to use, cost-effective way to 3D print large-scale components, KUKA Robotics featured a LOCI-One system using a KR QUANTEC2 robot at Automate 2023. The system, from Loci Robotics, prints and machines components ranging in size from a flower pot to a garden shed within a work area footprint about the size of a one car garage. Modular attachments and a flexible control system allow rapid integration of new options and technology at the speed which they are developed.
Loci Robotics, based in Knoxville, Tennessee, was founded by veterans of the large-scale additive industry. Dr. Maximilian Heres, company CEO, has over ten years of experience, and Jeff Foote, PE, brings over 15 years of engineering experience to the company.
In addition to quickly printing large structures with high output extruders, the LOCI-One system performs machining, cutting and drilling operations for complete component production. The system's speed and versatility comes from a KUKA QUANTEC2 6-axis robot.
With high payloads, less disruptive contours, streamlined wrists and smaller footprints, KUKA's KR QUANTEC series simplifies engineering for even the most complex applications. Optimized contours of the innovative energy supply systems also ensure easier simulation and more cost-effective cell planning. The short stopping distances of the robots make them well suited for compact cell and system designs and enable flexibility in system planning and implementation.
Loci customers are printing and machining a variety of items, ranging from molds for aerospace and architectural components, to furniture and playground equipment. A LOCI-One system has even been configured to print a 10 m2 backyard studio / tiny house. Existing users have experienced reductions in costs and timeline using the system.
KUKA
KUKA is a global automation corporation with sales of around 3.3 billion euro and roughly 14,000 employees. The company is headquartered in Augsburg, Germany. As one of the world's leading suppliers of intelligent automation solutions, KUKA offers customers everything they need from a single source: from robots and cells to fully automated systems and their networking in markets such as automotive, electronics, metal & plastic, consumer goods, e-commerce/retail and healthcare.

Back to Exhibitor News