KUKA KMR CYBERTECH Added Mobility to Machine Tending at Automate 2023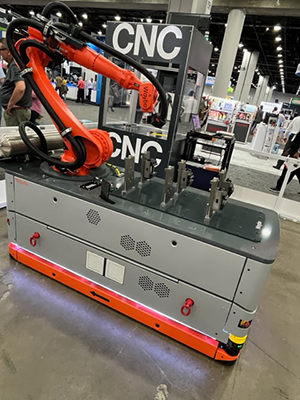 SHELBY TOWNSHIP, Mich., May 26, 2023 – In answer to the ongoing lack of skilled labor, Automate 2023 attendees got a first-hand look at the KUKA Robotics KMR CYBERTECH as it provided automated mobility to a Waybo machine tending cell. KUKA also featured a Waybo mobile collaborative cart solution that incorporated an LBR iisy cobot.
As a production solution for today's manufacturers, the Waybo series of pre-engineered compact machine tending cells are well suited for small and medium job shops that want to automate CNC machines for high-mix/low-volume manufacturing applications.
The KMR CYBERTECH utilizes a KUKA KMP 1500, an omnidirectional, mobile platform that navigates autonomously and flexibly. Combined with the latest KUKA controller, it provides modular, versatile and above all mobile production. This intelligent, autonomous vehicle supplies materials to robots and machines when needed. The KMP 1500 makes flexible production possible and integrates seamlessly into manufacturing operations.
The KR CYBERTECH family of industrial robots represents the world's largest range of models in the low payload category with the greatest power density. They are ideally suited to space-saving cell concepts, such as Waybo's, and provide top performance – with particularly low follow-up costs.
The compact Waybo cells are easy to install, can be moved from one machine tool to another and are simple to set up for the next batch of products. Because they can run autonomously for many hours – and easily cover the night shift, they have a quick return on investment. The two models currently available - PartNR and CyberDrawers - can load and unload any new or existing CNC lathe or milling machine. But the robot can also perform additional tasks, such as marking, inspection, washing, etc.
Whether loading/unloading machines, assembling components, packaging or for training, the KUKA LBR iisy used on the Waybo collaborative mobile cart provides increased versatility and can be immediately operated by anyone from an automation expert to a cobotics newcomer. Featuring various operator levels, the user-friendly system adapts to the corresponding level of user knowledge.
As with all KUKA automation solutions, those shown at Automate 2023 are backed by the company's expert service and support for training, complete system engineering and simulation, readily available spare parts, robot refurbishment and more. All of which are easily accessible through the my.KUKA.com site, and KUKA maintains corporate offices and production operations, along with integration partner facilities, conveniently located throughout North America to provide responsive customer service and support.
KUKA
KUKA is a global automation corporation with sales of around 3.3 billion euro and roughly 14,000 employees. The company is headquartered in Augsburg, Germany. As one of the world's leading suppliers of intelligent automation solutions, KUKA offers customers everything they need from a single source: from robots and cells to fully automated systems and their networking in markets such as automotive, electronics, metal & plastic, consumer goods, e-commerce/retail and healthcare.
Back to Exhibitor News