KUKA Highlights New Automation in Mobility, Education, Safety and Additive at AUTOMATE 2023
Featuring: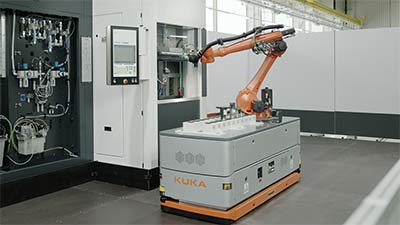 Shelby Township, Mich., March 27, 2023– During AUTOMATE 2023, KUKA Robotics will feature a well-rounded range of solutions for meeting the automation mobility, education, safety and other needs of today's manufacturers in booth 2623. Within two cells for the Fast Moving Consumer Goods (FMCG) industry sector and in a mobile machine tool-tending cell, KUKA will showcase its KMR iiwa, KMP 600-S diffDrive and KMR CYBERTECH mobile robots. KUKA's new LBR iisy cobot will be on display with an education package along with KUKA's new Ready2_educate and Ready2_educate_arc training carts. Also on display will be Airskin technology for safe, fenceless operation of industrial robots when humans are present as well as a large composite 3D printing cell.
For the FMCG industry, KUKA will show the capability of its AGILUS, DELTA HM and SCARA robots working with a KMR iiwa mobile automation platform in a pick and place/bin picking demonstration cell. For vision capability, the cell uses a 3D camera and Mech-Mind 3D vision system for recognizing randomly situated materials, even those with dark or reflective surfaces and complex structures. Once an object has been identified and selected, the trajectory planning system governs robot movements and provides the orientation required to remove the object without colliding against the walls of a container or other nearby elements.
KUKA's KMR iiwa mobile robot in the FMCG cell is human/robot compatible, combining the strengths of the company's sensitive LBR iiwa lightweight robot with those of a mobile, autonomous platform. The KMR iiwa is location-independent and highly flexible, making it the perfect fit for today's Industry 4.0 requirements.
To highlight its newly launched KMP 600-S diffDrive mobile platform automated guided vehicle (AGV) system, KUKA partnered it with a KR IONTEC robot in a cell developed by Mujin for efficiently palletizing and depalletizing consumer goods. To coordinate robot movement, the cell incorporates a Mujin controller and camera system.
With an operating speed of up to two meters per second, the KUKA KMP 600-S diffDrive mobile platform is fast and uses laser scanners and 3D object detection to meet the highest safety requirements, taking industrial intralogistics to new levels. Its payload capacity is up to 600 kilograms, and the vehicle requires no safety fencing to provide maximum freedom of movement for employees, while laser scanners mounted at the front and rear ensure safe operation at high speeds in all directions of travel when cycle times require it.
In answer to the ongoing lack of skilled labor, Automate 2023 attendees will see a Waybo mobile machine tending cell featuring a KMR CYBERTECH as a solution for today's manufacturers. The Waybo series of pre-engineered compact machine tending cells are well suited for small and medium job shops that want to automate CNC machines for high-mix/low-volume manufacturing applications.
The KMR CYBERTECH utilizes a KMP 1500, an omnidirectional, mobile platform that navigates autonomously and flexibly. Combined with the latest KUKA controller, it provides modular, versatile and above all mobile production. This intelligent, autonomous vehicle supplies materials to robots and machines when needed. The KMP 1500 makes flexible production possible and integrates seamlessly into manufacturing operations.
For robot training and education, KUKA will feature the Ready2_educate cell as well as the educational version of its new LBR iisy cobot. The Ready2_educate cell offers a complete starter package for schools, universities and company training facilities. With six axes, a 3-kg payload, 600-mm maximum reach and 18.8-kg overall weight, the LBR iisy is well suited for overcoming the challenges posed by confined workspaces. KUKA also offers the LBR iisy in 11-kg and 15-kg payload versions.
Automate 2023 will also bring the launch of the Ready2_educate_arc education cart that includes a KR AGILUS and Lincoln R450 welder at the Automate show. The all-in-one cart is mobile, fits through standard size doors, runs on 120v power and can be used without the welder for general training purposes. The cart also features a fume extractor, built-in fixture table and available options that include Touch Sense, Arc Sense, TRACC TCP and KUKA SIM. KUKA also provides training courses and project-based digital lesson books with Ready2_educate_arc.
Robot safety is always a critical aspect of automation, and KUKA will spotlight the Airskin safety technology on two industrial robots during the Automate show. The demonstration will show the safe collaboration between humans and industrial robots.
In the demonstration cell, two KR AGILUS robots outfitted with Airskin will work in a 13-foot open space, performing part handling and visual inspection. The Airskin technology will slow robot motion as a human approaches or stop that motion if the individual comes closer or touches one of the robots.
The Airskin consists of air cushions specially adapted to a robot, in which internal cushion pressure is constantly monitored. If contact occurs, the internal pressure changes by pressing in the air cushion and the Airskin is actuated. Collaborative robots cannot serve many high industry demands because they work at significantly slower speeds and with lower payloads than industrial robots. However, with Airskin, faster industrial robots are as safe to work in close proximity as cobots.
Among the companies benefiting from Airskin, Skyline Robotics relies on the technology for its Ozmo automated skyscraper window washing system. Ozmo combines KUKA robots, artificial intelligence, machine learning, computer vision, robotic control and an array of sensors to create a system that offers a safer alternative to human window washers.
In the KUKA Automate booth, Loci Robotics will display the possibilities that robotic 3D printing offer by showcasing a composite 3D printing live application. This large-scale print will be made possible with a 6-axis KR QUANTEC-2 KUKA arm. The QUANTEC-2 provides speed and precision with best-in-class payload and reach range, with a payload capacity of 300 kg and reach up 3,904 mm.
As with all KUKA automation solutions, those shown at Automate 2023 are backed by the company's expert service and support for training, complete system engineering and simulation, readily available spare parts, robot refurbishment and more. All of which are easily accessible through the my.KUKA.com site, and KUKA maintains corporate offices and production operations, along with integration partner facilities, conveniently located throughout North America to provide responsive customer service and support.
KUKA
KUKA is a global automation corporation with sales of around 3.3 billion euro and roughly 14,000 employees. The company is headquartered in Augsburg, Germany. As one of the world's leading suppliers of intelligent automation solutions, KUKA offers customers everything they need from a single source: from robots and cells to fully automated systems and their networking in markets such as automotive, electronics, metal & plastic, consumer goods, e-commerce/retail and healthcare. (As at December 31, 2021)
Back to Exhibitor News