KUKA Featured Mobile Automation in FMCG Pick and Place/Bin Picking Cell at Automate
Featuring: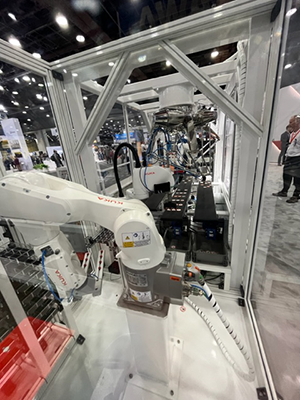 SHELBY TOWNSHIP, Mich., May 26, 2023 – For the Fast Moving Consumer Goods (FMCG) industry, KUKA demonstrated the capability of its AGILUS, DELTA HM and SCARA robots working with a KMR iiwa mobile automation platform in a pick and place/bin picking cell at Automate 2023. Designed to simulate a real production environment and automation solutions for each step – moving material from receiving and sorting to packing and distribution - the cell included KUKA's new KR 3 DELTA Hygienic robot, KR 6 SCARA and KR 6 AGILUS robots, a KMR iiwa autonomous mobile platform and advanced vision software, KUKA.VisionTech.
For vision capability, the cell used a 3D camera and SICK vision system for recognizing randomly situated materials, even those with dark or reflective surfaces and complex structures. Once an object has been identified and selected, the trajectory planning system governs robot movements and provides the orientation required to remove the object without colliding against the walls of a container or other nearby elements.
As the automated mobility aspect of the demonstration cell, KUKA'S KMR iiwa combines the sensitive KUKA LBR iiwa lightweight robot with a mobile, flexible platform. Designed to move omnidirectionally and execute 360-degree rotations, the KMR iiwa is autonomous, reacting immediately if a person or object is in the way and achieves a positioning accuracy of up to +/- 5 mm. Equipped with a KUKA AIVI control system that uses artificial intelligence to direct automated guided transport vehicles, the KMR iiwa ensures optimum material flow to the production line. The KMR iiwa is location-independent and highly flexible, making it the perfect fit for today's Industry 4.0 requirements.
The KR 3 DELTA hygienic robot provides outstanding performance and value for pick-and-place applications for the food, packaging, electronics and pharmaceutical industries. The KR 3 DELTA combines precise grip, corrosion resistance and minimal maintenance requirements to excel in sensitive high-speed production applications. This ceiling-mounted robot offers a reach of 1200 mm, a maximum payload capacity of 3 kg and cycle times as low as 0.5 seconds.
The ultra-compact KR 6 SCARA with a 6-kg payload positions at a repeatability of +/- .02 mm. It offers reach/radius options of 500 and 700 mm and a Z-axis stroke of 2 mm. The KR 6 SCARA is strong, fast, highly efficient and delivers maximum economy. Both robots were paired with KUKA.VisionTech that provides powerful tools for 2D object recognition, quality control as well as code and optical character recognition.
KUKA's KR 6 AGILUS with its extreme versatility and agility rounded out the FMCG robotic trio. Adapting to any installation position, the six-axis KR 6 AGILUS is designed for particularly high working speeds, boasts a 10-kg payload and comes in a wide range of variants for challenging applications such as clean rooms and potentially explosive environments.
KUKA
KUKA is a global automation corporation with sales of around 3.3 billion euro and roughly 14,000 employees. The company is headquartered in Augsburg, Germany. As one of the world's leading suppliers of intelligent automation solutions, KUKA offers customers everything they need from a single source: from robots and cells to fully automated systems and their networking in markets such as automotive, electronics, metal & plastic, consumer goods, e-commerce/retail and healthcare.

Back to Exhibitor News