IDS presents how to leverage AI Vision with its user-friendly all-in-one system
Featuring: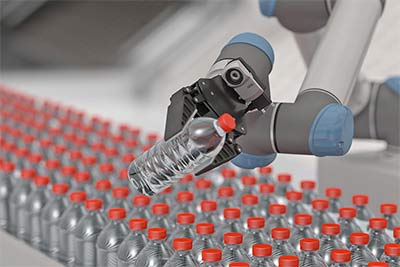 Whether sorting, inspecting, supplying or documenting goods, many steps in the production process can be optimized with machine vision and artificial intelligence. However, many companies still lack the know-how and time to familiarize themselves with the field of AI and use the technology for their needs. The AI Vision System IDS NXT is designed to help with this, as it can be quickly and easily deployed by any user group, even without having extensive knowledge of machine learning, image processing, or application programming. It consists of industrial cameras capable of performing AI-based image processing tasks on
the device and easy-to-use software.
Thanks to the recently introduced software update 3.1, IDS NXT cameras became also able to detect anomalies – even if deviations are not previously known or hardly predictable. It is possible to use only "GOOD" images for the training of the neural network that later runs directly on the camera. In addition, only a small amount of training data is required compared to the other AI methods Object Detection and Classification. This makes it particularly easy and convenient to evaluate the potential of AI-based image processing. The combination of ease of use and powerful vision system helps companies to implement the possibilities of new vision technology and keep their competitive edge.
More information: https://www.ids-imaging.us/ids-nxt-benefits.html
Additional products relevant for Automate:
uEye XC- Industrial-grade webcam
Programmable or plug & play? With the uEye XC autofocus camera, the choice is yours. IDS now offers the compact camera with UVC protocol in addition to models with USB3 Vision. Like a webcam, it delivers perfectly sharp images and videos – even with changing object distances and difficult lighting conditions. https://www.ids-imaging.us/ueye-xc-autofocus-camera.html
uEye Warp10-Ultra-fast 10GigE cameras
Capturing fast-moving scenes in all details requires not only the right sensor, but also a high-performance interface. For this, IDS now offers uEye Warp10, a 10GigE industrial camera family. They are about twice as fast as cameras with USB3 interface. The company has recently introduced new models with Sony 4th generation sensors, and will soon add several high-resolution onsemi XGS sensors as well as models with TFL mount.
https://www.ids-imaging.us/ueye-warp10.html
Ensenso C-Powerful 3D camera
This brand-new model in the Ensenso 3D camera product line is the first to deliver both 3D data and 2D color information from one device. This allows for even more robust automation tasks. The AI vision system IDS NXT now also provides anomaly detection. IDS NXT is a comprehensive system consisting of software and hardware for image evaluation with AI uEye XC from IDS closes the market gap between industrial camera and webcam
About IDS Imaging Development Systems GmbH
IDS Imaging Development Systems GmbH is a leading manufacturer of industrial cameras and pioneer in industrial image processing. The owner-managed company develops modular concepts of powerful and versatile USB, GigE and 3D camera as well as models with Artificial Intelligence (AI). The almost unlimited
range of applications covers multiple non-industrial and industrial sectors of equipment, plant and mechanical engineering. The AI image processing platform IDS NXT is extremely versatile and opens up new areas of application where classic rule-based image processing reaches its limits. With visionpier, IDS
operates an online marketplace that brings together suppliers of ready-made image processing solutions and interested end customers in a targeted manner.
Since its foundation in 1997 as a two-man company, IDS has developed into an independent, ISO and environmentally certified family business with around 350 employees. The headquarters in Obersulm, Germany, is both a development and production site. With branches and representative offices in the USA,
Japan, South Korea, the UK, France and the Netherlands, the technology company is also globally represented.
IDS Imaging Development Systems Inc.
92 Montvale Ave, Suite 4750
Stoneham, MA 02180, USA
Sales -
Phone: +1 (781) 787-0048
[email protected]
www.ids-imaging.us
IDS Imaging Development Systems GmbH
Dimbacher Str. 10
74182 Obersulm
Germany
Claudia KIRSCH
Phone: +49 7134 96196 0
2/3
[email protected]
www.ids-imaging.com
Back to Exhibitor News