Festo Features a UR+ Certified Multi-Axis System at Automate 2023
Featuring:
ISLANDIA, NY, May 18, 2023 — Festo showcases its UR+ certified multi-axis solution for Universal Robots (UR) at Automate 2023. The UR system offers unique capabilities in the UR collaborative ecosystem by allowing up to four additional axes of motion beyond the UR cobot's six axes. (Huntington Place Convention Center, Detroit, May 22-25, Booth #1026).
The multi-axis system features the Festo Motion Control Package (FMCP-UR), which is a complete motion control panel for up to four axes motion. The FMCP is fully integrated with the UR cobot control panel and HMI and features an enhanced safety I/O handshake and communications interface.
The FMCP-UR can control turn tables, gantry systems, conveyors, transfer tables, and any combination of linear and rotary servo axes up to the 10th axis – all under the UR umbrella. Full 10-axis motion is on display at Automate. The FMCP-UR has specific features to best interface with UR cobots, while allowing future flexibility for users. The Festo Customer Solution Team can customize the FMCP-UR to the application.
Streamlined axis configuration allows for less engineering, integration, and troubleshooting during set up and can be easily done through the UR HMI. The Multi-Axis Drive (MAD) controller is a URCap software that allows users to set position, speed, and acceleration on the HMI or use the toolbar to jog the axes in manual mode to configure motion.
The 10-axis UR demo also features the Festo Essentials Pin Ball Maze. Attendees are welcome to come and test their skills to complete the maze using wireless tablet controls.
Festo and Festo Didactic conference presentations
Festo presents When and Where to Use Cartesian Robots at 10 a.m. on Wednesday, May 24, Room 330A. This presentation focuses on key application considerations for Cartesian robots, including payload, reach, speed, degrees of freedom, environment, end-of-arm tooling, and commissioning.
Festo Didactic, the learning arm of Festo, will also give presentations; the first covers AI and real-time data at 2:30 p.m. on Tuesday, May 23, in Room 330A. In the second presentation, Festo Didactic highlights the latest trends in Industry 4.0. This presentation will be given on May 25 during the A3 networking lunch. Festo Didactic has training solution demonstrations at the Festo booth.
Festo UR multi-axis system VR 2a
The Festo UR multi-axis system controls up to four axes: UR cobot, top center, with
optional E30 smart magnetic gripper; teach pendant, left; and the seventh axis,
bottom center. QR code for virtual reality image.
Festo UR multi-axis system VR3a
The Festo Motion Control Package control panel, bottom left, is pre-integrated with a
UR control panel, bottom middle. Axes are configured within the UR environment for
ease of use. QR code for virtual reality image.

Simplified Motion Series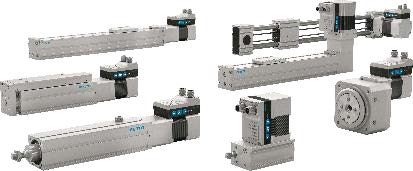 Festo SMS
These SMS axes from Festo provide an economical and easy-to-use solution for electric motion.
A must-see at the Festo booth is the Simplified Motion Series (SMS) of electric actuators. SMS combines the simplicity and cost-effectiveness of pneumatics with the benefits of low energy consumption and precision positioning of electrics. SMS actuators deliver infinitely variable three-position motion for an economical all-in one servo-motion solution.
The SMS series includes ball screw, toothed belt, mini slide, electric cylinder, piston rod, and rotary actuator styles for an extensive range of applications. Simple setup ensures fast startup and nimble changeover.
Decentralized I/O – CPX-AP-I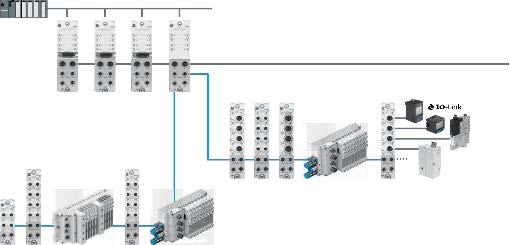 Decentralized I/O topology
The bus modules (top left) connected to the controller, daisy-chained digital and analog input blocks (center), and valve terminal (lower left) illustrate the CPX-AP-I decentralized I/O topology.
Festo features its Ethernet-based CPX-AP-I decentralized I/O. OEMs, integrators, and end users can network up to 500 I/O modules on a single bus node and mix and match both electrics and pneumatics on the same I/O network for greater flexibility and the opportunity for developing unique solutions.
A free online configuration tool speeds design, while plug-and-play performance reduces wiring and shortens installation time. CPXAP- I is compatible with the leading communications protocols, including Ethernet/IP, PROFINET, and EtherCAT, enabling the Festo ecosystem's seamless connectivity.
Visit www.festo.com for the full range of the company's solutions.
About Festo U.S.
Festo is a leading manufacturer of pneumatic and electromechanical systems, components, and controls for process and industrial automation. Celebrating 50 years in the U.S., Festo Corporation has continuously elevated the state of manufacturing with innovations and optimized motion control solutions that deliver higher performing, more profitable automated manufacturing and processing equipment. Through advanced technical and industrial education, Festo Didactic Learning Systems and its partners prepare workers for current and future manufacturing technologies. Connect with Festo: Facebook, LinkedIn, Twitter and YouTube
Back to Exhibitor News