AUTOMATE CONFERENCE AGENDA
Our conference is a game-changing experience for those looking to sharpen their skills or deepen their automation knowledge. Come learn from accomplished industry professionals who are shaping the future of automation and get practical solutions you can leverage right away. The conference also serves as the North American edition of the International Symposium on Robotics (ISR) sponsored by the International Federation of Robotics.

The Automate Conference is an additional fee, while the Automate Show is free for all registrants. To access our conference sessions, please purchase your pass during registration. You can purchase a single-day pass or an all-access pass. Please see our conference page for more information.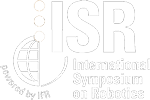 Select Your Topic(s):
Filter the conference agenda by selecting the topic(s) you are interested in to see all sessions for that topic. Below the topic buttons, you can also filter by day.
Agenda subject to change. More sessions coming soon.
Friday, May 26, 2023
8:00 AM - 10:00 AM
Room 310B
Certified Vision Professional (CVP) Advanced
Advanced Vision System Integration
David Dechow, Owner, Machine Vision Source
Robert Tait, Partner, Optical Metrology Solutions
Producing a reliable vision system is no accident. It begins with creating a strong specification that carries through from component selection to system development and finally on-line deployment. Successful and efficient vision systems integration in an automation environment can be achieved by following a general well-accepted workflow that will guide the execution of each phase of the process. It's important also to be able to identify certain classic integration challenges that may happen along the way. This course will take you through the steps needed to achieve vision system integration success and will detail practical examples of typical use cases and the annoying but sometimes-amusing pitfalls that can (and will) occur.

Owner
Machine Vision Source

Partner
Optical Metrology Solutions
1:00 PM - 3:00 PM
Room 310B
Certified Vision Professional (CVP) Advanced
CVP-Advanced Exam (optional/additional fee required)
Additional fee required for exam