THE Certified Motion Control Professional Program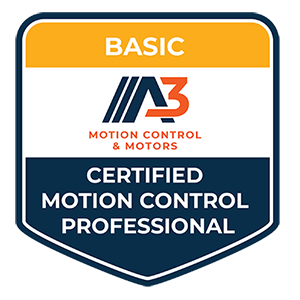 STRENGTHEN YOUR SKILLS AND ENHANCE YOUR CAREER!
GET HIGH QUALITY, CORE MOTION CONTROL TRAINING AND INDUSTRY CERTIFICATION TO PROVE YOUR SPECIALIZED TECHNICAL KNOWLEDGE.
Become a Certified Motion Control Professional at AUTOMATE!
Certified Motion Control Professional-BASIC training and certification exam offered.
BOOST YOUR CAREER…STRENGTHEN YOUR TEAM…STAND OUT IN THE INDUSTRY!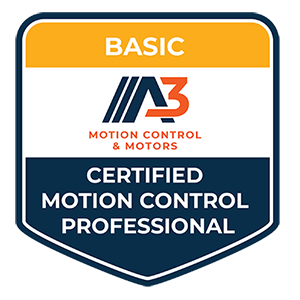 Certified Motion Control Professional Basic Course Outline
Basic Machine Design and the Physics of Motion Introduction to basic machine design concepts and physics behind electro-mechanical motion control.
Mechanical Motion Control Components and Subsystems Introduction to what a typical motion control system consists of and the typical mechanical components and subsystems it contains.
Understanding Inertia and Reflected Inertia The importance of inertia in electro-mechanical motion control systems and how the inertia of the components in a motion control system effect its performance.
Introduction to Magnetism and Motor Basics Basics of magnetics and the types of magnets found in motors. Overview of the basic function and styles of electric motors commonly used in industrial automation, including the operating difference between brushed, brushless, step, AC induction, and direct drive motors.
Positioner Selection and Motor Sizing How to select an appropriate single axis positioner for specific application requirements based on loading, environment, motion profile, and positioning performance. Overview on determining the required torque, speed and inertia of the motor/drive system that is needed for your application.
Digital Servo Amplifier Basics Basic operation of a digital servo amplifier, including servo control loops, tuning a servo system, defining system bandwidth and how to select the proper amplifier for applications. Basics of the major networks/field busses and advantages/disadvantages of each.
Motion Controllers, Programming, and System Design Basics Overview of the software and hardware elements necessary to build a motion system, and how to integrate motion with other systems when designing a machine. Basic motion control software and programming languages.
TO LEARN MORE ABOUT THE CERTIFIED MOTION CONTROL PROFESSIONAL PROGRAM, VISIT AUTOMATE.ORG
What Certification Can Do For You
Differentiate yourself in the industry
Showcase your technical proficiency
Strengthen your educational portfolio
Give your company a competitive advantage
MORE INFORMATION
Get Certified
The certification program helps you and your company strengthen your knowledge and stand out in the industry with top-notch, skilled teams.
Certification gives you:
Certification for a full five years
A personalized Certified Motion Control Professional certificate suitable for framing
Continued education units (CEUs)
Listing on the Meet the Certified Motion Control Professional page on Motion Control Online
MORE INFORMATION
COME FOR YOUR CERTIFICATION – STAY FOR THE AUTOMATION EDUCATION
The Automate Conference offers practical education each and every day of the show (Monday – Thursday). An "All Access Pass" gives you access to ALL classes offered during Automate.
Don't forget to allow time to see the leading industry suppliers on the trade show floor. Show opens daily at 10:00 am.
MEET THE INSTRUCTORS