David J. Michael: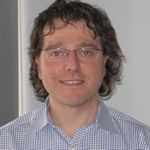 David J. Michael
Director of Core Vision Tool Development
Cognex Corporation
Dr. David Michael is a technology leader known for industrial computer vision and pattern recognition algorithms and applications. As Director of Core Vision Tool Development, David manages the research and development of world-leading artificial intelligence software for machine vision products at Cognex.
David has written or been the co-author of over 50 issued US patents in different aspects of machine vision, including 3D vision, pose estimation, camera and robot calibration, image registration, color, image processing and inspection.
He received the B.S. degree in Electrical Engineering from Cornell University in Ithaca, New York in 1985 and the S.M. degree in Radiological Science and Ph.D. degree in Computer Vision from Massachusetts Institute of Technology in Cambridge, Massachusetts in 1986, and 1992 respectively. He joined Cognex Corporation in 1992.
David resides in Wayland, Massachusetts with his wife Monica and three children.