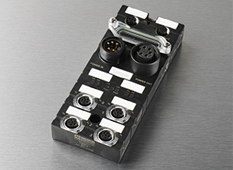 Cube67+
Cube67+ is an IP67 rated, fully distributed I/O system with proven reliability in industrial applications. It supports multiple protocols and the bus nodes have an integrated Power-T as well as communication switch connections, giving you the ability to daisy chain multiple devices together with other items on the bus network. The advanced diagnostic functions include pin level LED diagnostics and, with the Ethernet/IP bus node, a built in web browser function providing both diagnostics and system overview without the need of a PLC. The Ethernet/IP bus node also includes the following:

Placeholders allow users to reserve input and output bytes inside the Cube67+ bus node for future system expansions.

Free I/O Mapping allows users to define the addresses of each I/O module connected to the Cube67+ station. Use when you want to:
Separate groups of I/O modules in different data areas
Expand your Cube67+ station and didn't use PLACEHOLDERS
Your PLC has very limited memory and you don't want to waste it with unnecessary I/O data
Machine Option Management
makes it possible to turn different Cube modules on or off while they are running via the controls. This creates the foundation for modular machine configurations, easy tool changes, the possibility to expand the system and optional machine add-on I/Os for sequential commissioning.