Hotel & Shuttle Info:

Headquarters Hotel for Automate 2017
Sheraton Grand Chicago
301 E. North Water Street
Chicago, Illinois 60611 USA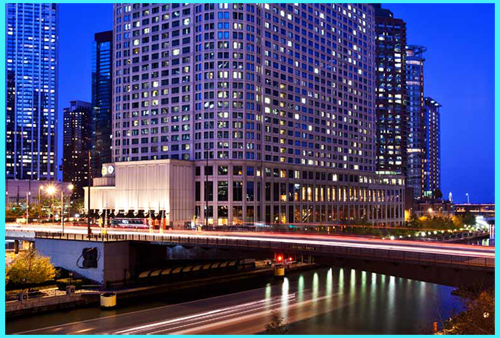 Stay at the Automate 2017 Headquarters Hotel and extend your networking!
Stay in this luxurious hotel on the river, right off Michigan Avenue for just $199 (USD) plus tax for single/double occupancy. It is more than worthwhile to take advantage of the extended networking with all of the automation community by staying at the headquarters hotel. You'll meet peers, customers and other important industry leaders at the restaurants and bars throughout your stay. This hotel is also a shuttle bus stop to and from McCormick Place.
Reservations: Online reservations are available or call the hotel directly at +1-800-325-3535 and ask for the Automate 2017 room block when reserving rooms.
The Sheraton Grand Chicago (formerly Sheraton Chicago Hotel & Towers) is Chicago's premier downtown riverfront hotel, just steps off Michigan Avenue and within a short walk of Navy Pier, Millennium Park, museums, shopping and entertainment. Take advantage of our prime location and get to McCormick Place in only 8 minutes via the convention shuttle, no other stops! Guests enjoy deluxe accommodations, including Sheraton's Sweet Sleeper Beds in each of the 1,214 guest rooms featuring spectacular views of the Chicago River, Lake Michigan or the Chicago skyline. There are five distinctive restaurants and bars, including Shula's Steak House. The Sheraton also features a Fitness Center, indoor swimming pool, sauna, and massage therapy.
Don't delay in reserving your accommodation, (cut-off date for discounted rate is March 12, 2017 but this hotel will fill up before then):

Hotel Property (click this link for online reservations)
Address
Room Rates
Reservation Telephone
Use Group Code
Cut Off Dates
Sheraton Grand Chicago
Official Automate 2017 Headquarters Hotel!


BEST AVAILABILITY

301 East North Water Street
Chicago, Illinois 60611
$199
1-800-325-3535
Automate 2017
March 12, 2017
Chicago Hilton
720 South Michigan Avenue
Chicago, Illinois 60605
$194
1-800-774-1500
MPRA
March 12, 2017
Courtyard by Marriott River North
30 East Hubbard
Chicago, Illinois 60611
$189
1-888-236-2427
Automate 2017
March 15, 2017
Hampton Inn & Suites Chicago-Downtown
33 West Illinois
Chicago, Illinois 60654
$169
1-888-370-0981
AUT
March 13, 2017
Hard Rock Hotel
230 North Michigan Avenue
Chicago, Illinois 60601
$185
1-312-334-6767
PROMATAUTOSUB
March 13, 2017
Holiday Inn Mart
350 West Mart Center Drive
Chicago, Illinois 60654
$159
1-888-HOLIDAY
Automate 2017
March 13, 2017
Hyatt McCormick Place
2233 S. Martin Luther King Drive
Chicago, Illinois 60616
$265
1-888-591-1234
Automate 2017
March 13, 2017
Palmer House
17 East Monroe Street
Chicago, Illinois 60603
$184
1-312-726-7500
MHX-Staff
March 12, 2017
Westin Michigan Avenue
909 North Michigan Avenue
Chicago, Illinois 60611
$179 Traditional
$239 Club Level
1-888-627-8385
P2C28A
March 12, 2017
Shuttle Bus Service
Complimentary shuttle buses will run between McCormick Place and all designated Automate 2017 hotels from April 3 - 6, 2017. For your convenience, bus schedules will be posted at McCormick Place and in each hotel.
Buses will run:
Monday – Wednesday: 7:00am to 11:00am and 3:00pm to 6:00pm
Thursday: 7:00am to 11:00am and 2:00pm to 5:00pm