Rotary connector for rotating components
Eisele Connectors offers new practical connector from BASICLINE push-in fitting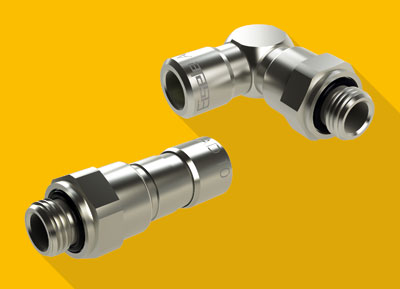 During the Automate 2019 show, Eisele Connectors will present a ball bearing rotary connector. This addition to series 14 of the Eisele BASICLINE can rotate freely around its own axis. The new rotary connector offers a solution for conveying compressed air from a rigid component to a rotating component.
The rotary connector, which is designed for an operating pressure range of -0,9 to 16 bar, is suitable for all applications that are compatible with nickel-plated brass. The seals are made of NBR and FKM. The rotary connector is available in a straight, an angled and a T-shaped version for tube diameters of eight, ten and twelve millimeters. The screw-in end is equipped with G1/4 threads.
This new push-in connector from series 14 of the BASICLINE is the first fully rotating connector in Eisele's product spectrum. The rotary movement is enabled by a hybrid stainless steel ball bearing with ceramic balls, which is approved for rotational speeds of up to 800 rpm. Stainless steel versions that are suitable for other operating media will follow.
Visit Eisele Connectors at the Automate 2019 show, Booth 8556
About Eisele Connectors
Eisele Connectors, Inc. is a subsidiary of Eisele Pneumatics GmbH & Co. KG, which emerged from a company founded in 1939. With more than 70 years of experience in precision machining, Eisele Connectors is one of the world's leading suppliers for high quality all-metal connectors and developing custom connector solutions.
Drawing from the company's proven German manufacturing depth, Eisele's North American facility keeps a robust stock of products and can optimally supply its customers and respond quickly to fulfill needs. The company is part of a global logistics network that guarantees fast availability of products to the global market and is a member of the American Welding Society (AWS), the Society of Automotive Engineers (SAE), the Society of Manufacturing Engineers (SME) and the Association for Hose Accessories Distribution (NAHAD).
Back to Exhibitor News