Rainbow Robotics Participates in Automate 2023 and Goes All Out to Secure More Distributors in the U.S.
Featuring:
SCHAUMBURG, Ill., May 22, 2023 /PRNewswire/ -- Rainbow Robotics (CEO Lee Jungho) announced on the 22nd that it would be participating in Automate 2023, one of the largest showcases for introducing and demonstrating automation technology solutions in North America. The event will be held in Detroit, Michigan, USA for four days from May 22 to 25 this year.
At 'Automate 2023', Rainbow Robotics will introduce five different models of its 'RB Cobot Series', which are highly competitive pricewise compared to rival products because their production costs are approximately 50% lower thanks to the company's in-house development of the actuators, encoders, brakes, and controllers. Rainbow Robotics also plans to recruit local dealers in North America while participating in the event.
Automate is one of the largest exhibitions in North America for automation technology solutions as well as a venue that offers global automation, robotics, and motion control companies opportunities to form a network while introducing their products and solutions.
Having set up a branch company in Schaumburg, Illinois last month, Rainbow Robotics is currently organizing its cobot sales and customer management teams. The company has successfully designed all the products made for export to the North American markets in accordance with international standards and is ready to launch them now that it has been awarded the US NRTL and CSA (Canadian Standards Association) certifications by the global certification body TÜV SÜD. (CSA Z434:2014, UL 1740:2018/R:2020-11, NFPA79:2021)
A spokesperson for Rainbow Robotics said, "We have successfully obtained the necessary certifications for all the products we aim to export to the North American markets, set up a branch company as a strategic base for our business operations in the country, and organized our teams there. We have also recruited local distributors faster than planned, and we hope to recruit more from major cities in North America at Automate 2023."
He added that, "We plan to achieve a high market share in the North American cobot markets in a short period of time with the local distributors with whom we have entered into strategic partnerships.
Rainbow Robotics has also signed a distributorship agreement with Cascara Robotics, a robotic automation solutions provider headquartered in Pontiac, Michigan, USA for the sales and supply of cobots, as well as entering into strategic partnerships with a number of machine assembly and system integration service providers in each area, along with two dealers in the U.S. and one in Canada.
The two sales dealers in the U.S. are DiverPrint, which possesses the technology for printing system automation development using cobots, and Wingman Cobot, a new provider of cobot services based on F&B service data. The Canadian distributor is Camex Machinery, an automation system provider with its headquarters in Montreal.
Existing industrial robots have to be fenced in, which means that robots and human workers work in separate places. By contrast, cobots do not need to be fenced in and can work side by side with human workers, increasing productivity by sharing the workload of human workers and supplementing the shortage of production workers. The global cobot market is enjoying an average annual growth rate of 33% due to the decreasing labor force and increasing labor costs.
According to the global research platform MarketsandMarkets, the total labor force has been on a declining trend while labor costs have been on the rise since the COVID-19 pandemic. As a result, the global cobot market is expected show an average annual growth rate of 43.5%, rising from USD 836.24 million in 2020 to USD 5 billion 884.9 million by 2025.
Rainbow Robotics also develops and provides software that can optimize robots to meet customer needs by performing various functions without requiring the users to learn how to use new technologies. This can help the users cut down their production costs and focus more on delivering higher quality goods and services to their customers.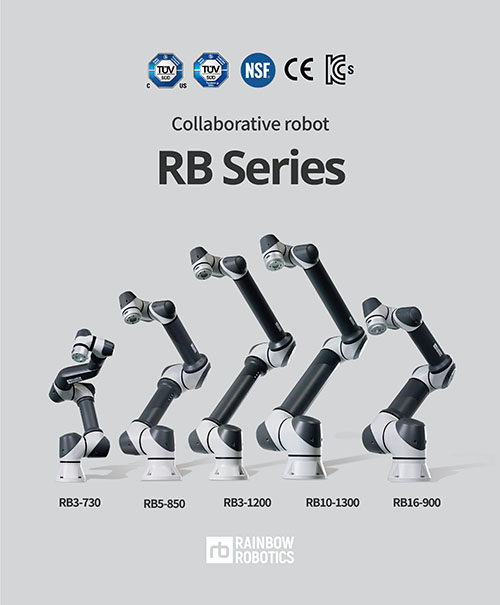 Back to Exhibitor News