KUKA's LBR iisy and Robot Training Took Center Stage at Automate 2023
Featuring: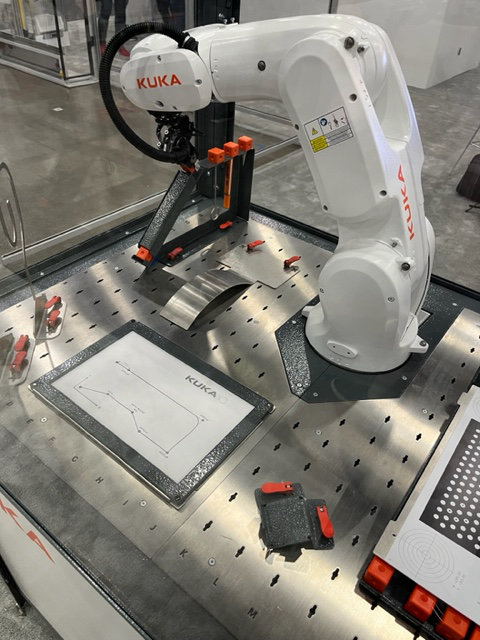 SHELBY TOWNSHIP, Mich., May 26, 2023 – For robot training and education, KUKA brought its Ready2_educate cell as well as the educational version of its new LBR iisy cobot to Automate 2023. The Ready2_educate cell showed attendees a complete starter package for schools, universities and company training facilities.
As part of the Ready2_educate cell, the LBR iisy provides six axes of motion, a 3-kg payload, 600-mm maximum reach and 18.8-kg overall weight. This makes it well suited for overcoming the challenges posed by confined workspaces and training rooms. KUKA also offers the LBR iisy in 11-kg and 15-kg payload versions.
Whether loading/unloading machines, assembling components, packaging or for training, the LBR iisy provides increased versatility and can be immediately operated by anyone from an automation expert to a cobotics newcomer. Featuring various operator levels, the user-friendly system adapts to the corresponding level of user knowledge.
Ready to use right out of the box, the LBR iisy allows for use in more applications than ever before, including those so simple that most wouldn't think they could be automated. Operating the iiQKA.OS system and supported by the iiQKA Ecosystem, the LBR iisy is ready for use in a matter of minutes – depending on pre-configured options – from unpacking to productive work. As such, the cobot also eliminates long training times or having to learn complex programming techniques.
As with all KUKA automation solutions, those shown at Automate 2023 are backed by the company's expert service and support for training, complete system engineering and simulation, readily available spare parts, robot refurbishment and more. All of which are easily accessible through the my.KUKA.com site, and KUKA maintains corporate offices and production operations, along with integration partner facilities, conveniently located throughout North America to provide responsive customer service and support.
KUKA
KUKA is a global automation corporation with sales of around 3.3 billion euro and roughly 14,000 employees. The company is headquartered in Augsburg, Germany. As one of the world's leading suppliers of intelligent automation solutions, KUKA offers customers everything they need from a single source: from robots and cells to fully automated systems and their networking in markets such as automotive, electronics, metal & plastic, consumer goods, e-commerce/retail and healthcare.

Back to Exhibitor News