Kane Robotics Joins Forces with ATI Industrial Automation for Weld Grinding Demo at Automate 2023
Featuring:
Chino, Calif., May 22, 2023 – Kane Robotics will demo its material removal collaborative robot (cobot) solution that incorporates ATI Industrial Automation's new CGV-900 Compliant Angle Grinder (CGV) during Automate 2023, the nation's largest automation event, May 22-25, 2023.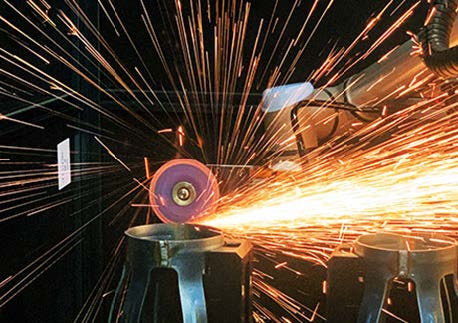 At ATI's Booth #3500, visitors will witness the combined solution of Kane's GRIT-ST cobot system, ATI's CGV grinder, Universal Robots' UR10e cobot and 3M's Cubitron II abrasive media as it efficiently and safely grinds welds. The solution provides an alternative to the tedious and dangerous work of grinding and finishing by hand.
With consistent speed and compatibility with industry-standard grinding media like sanding discs and wire brushes that are traditionally used with handheld tools, the CGV can be used with Kane's GRIT-ST cobot solution to automate a wide variety of grinding and finishing processes.
ATI's CGV grinder has built-in compliance that allows the unit to compensate for irregularities in part surfaces, and its compliance force is adjustable, enabling users to make changes in real-time as needed. The CGV's sensing data allows for process validation, avoiding rework and downtime.
Together with Kane's GRITTM cobot system, the combined Kane–ATI solution works alongside humans to perform a wide variety of labor-intensive sanding, grinding and finishing tasks in industries ranging from aerospace to construction.
Unlike traditional industrial automation, GRIT solutions are reconfigurable for different tasks and, with various sizes, the cobots can accommodate a wide variety of jobs. They are accessible even for smaller manufacturers; a GRIT system requires a modest investment and realizes a 100% return on investment within months.
Kane cobot solutions are practical and easy to operate, and users report a 50-80%improvement in productivity upon their implementation. Kane's solutions also reduce health risks and solve labor shortage issues for small- and medium-sized manufacturers.
By performing tedious tasks that could cause repetitive motion injuries and respiratory illness in humans, the cobot solution reduces health care costs for employers. It also frees up workers from the tedious and debilitating work that humans typically don't want to do, helping employers retain their valuable employees and lessen the need to hire for hard-to-fill jobs.
Exhibiting with application partners at Automate 2023 demonstrates Kane's ability to make automation practical and accessible for many different types and sizes of businesses.
Contact Kane for more information at https://kanerobotics.com/contact/.
About Kane Robotics
Since its founding in 2019, Kane Robotics has collaborated with manufacturers in aerospace, defense and other industries to simplify material removal processes through automation, creating the first collaborative robot (cobot) built specifically for composites sanding. Kane's reconfigurable and easy-to-operate cobots work alongside humans to perform safe and precise sanding, grinding and finishing. The compact, mobile and affordable cobot solutions are accessible to all sizes and types of manufacturers and offer a pragmatic way to dramatically increase productivity, improve safety and fill job vacancies for dangerous, repetitive and labor-intensive tasks. With extensive experience in aerospace and defense, Kane's industry experts are considered some of the top minds in the world for automation in sanding and composites. Learn more about Kane's cobot solutions at https://kanerobotics.com/.
About ATI Industrial Automation
ATI Industrial Automation is the world-leading, engineering-based developer of robotic accessories and robot arm tooling, including Automatic Tool Changers, Multi-Axis Force/Torque Sensing Systems, Utility Couplers, Material Removal Tools, Robotic Collision Sensors, Manual Tool Changers, and Compliance Devices. Their robot end-effector products are found in thousands of successful applications around the world. Since 1989, their team of mechanical, electrical, and software engineers has been developing cost-effective, state-of-the-art end-effector products and solutions that improve robotic productivity. Visit https://www.ati-ia.com.
Back to Exhibitor News