Beckhoff Celebrates 20 Years of EtherCAT
Featuring:
SAVAGE, Minnesota, May 23, 2023 – Beckhoff Automation, a pioneer in automation solutions, proudly commemorates the 20th anniversary of EtherCAT, the groundbreaking industrial Ethernet system that transformed the world of industrial networking. Since its introduction at Hannover Messe in 2003, EtherCAT has emerged as the leader in speed, flexibility and openness, solidifying its position in the global market through its reliability and continuous technical advancements. Today, EtherCAT remains an open IEC standard and empowers companies across industries to leverage its key technological advantages.
The unbeatable performance and innovation potential of EtherCAT have made it a cornerstone in industries such as packaging, fabrication, assembly, entertainment and more. Additionally, it supports emerging applications in mobile robotics, intralogistics, electric vehicle manufacturing, aerospace, scientific research and semiconductor manufacturing (as a SEMI standard).
"EtherCAT has played a pivotal role in driving forward the world's leading automation applications through its high speed, determinism and flexible topology," said Daymon Thompson, Director of Product Management at Beckhoff USA. "From large scale applications such as giant telescopes with thousands of axes of motion to small IoT data collection devices and everything in between, EtherCAT has enabled remarkable technological achievements. With its proven track record, EtherCAT will continue to empower high-performance automation solutions for the next 20 years."
Beckhoff is renowned for industry-leading controls performance, which is supported by engineering experts who continually push performance limits in the world of automation. Built on the principle of PC-based control technology, Beckhoff makes it possible to harness the full advantages of a PC – most notably the high computing power – directly on the machine. EtherCAT was developed to utilize the high performance of standard Ethernet interfaces on PCs while reducing the complexity of standard TCP/IP Ethernet communications to maximize bandwidth utilization and performance. Even after 20 years, this paradigm remains as true as ever.
EtherCAT combines the standard Ethernet protocol with the reliability, performance and stability required for industrial communication, delivering significant advantages:
Exceptional performance: With EtherCAT, fast communication and nanosecond synchronization via distributed clocks optimize application efficiency while reducing CPU loads by up to 30%.
Flexible topology: Essentially any topology – tree, star, drop, line, circle, etc. – or any combination of these is possible with a nearly unlimited number of nodes and Hot Connect functionality.
Simple and robust: Automatic addressing of nodes, comprehensive and highly localized diagnostics, superior noise immunity and high bandwidth all streamline network implementation and maintenance.
Integrated safety: Available since 2005, Fail Safe over EtherCAT (FSoE) offers TÜV-certified functional safety up to SIL 3 in both centralized and decentralized control systems.
Affordability: No switches are necessary, masters only need an Ethernet port, and sub-devices can use a variety of ESC chips – all of which keep expenses near or less than legacy fieldbus costs.
Largest variety of vendors and devices: The EtherCAT Technology Group (ETG) is the world's largest industrial Ethernet organization with over 7,100 member companies and over 3,000 officially registered vendors, with Beckhoff offering the most comprehensive portfolio of EtherCAT devices.
"As an all-purpose industrial network, EtherCAT has become a foundational technology for all areas of modern industrial automation," said Azad Jafari, I/O Product Manager at Beckhoff USA. "So far, this includes drive technology, mechatronics, machine safety, condition monitoring, advanced measurement technology and machine vision, among others. And as emerging concepts break through, they will continue to find the powerful and flexible communication technology they need in EtherCAT."
EtherCAT Products from Beckhoff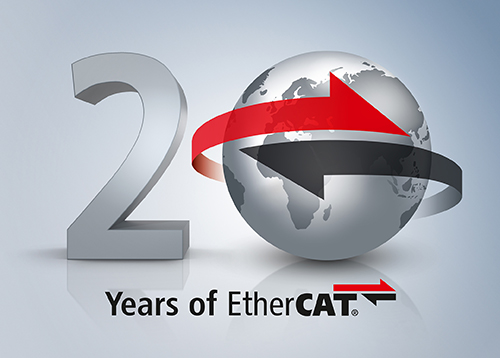 Over 20 successful years, the high-performance EtherCAT system developed by Beckhoff has long since established itself as an open, global standard for real-time Ethernet communication.
Beckhoff Automation is a provider of advanced and open automation solutions based upon proven technologies for customers to implement high performance control systems faster and at a lower overall cost than traditional PLC and motion control systems. Beckhoff's "New Automation Technology" product range includes PC-based control, Industrial PCs, automation controllers, operator interfaces, I/O, servo drives and motors. With representation in more than 75 countries, Beckhoff is well positioned to provide global sales and service to its customers. Beckhoff sales and service are handled directly, with no intermediaries involved for exceptional customer service and consultation.
Back to Exhibitor News