ATLANTA Drive Systems to Showcase "Digital" Rack & Pinion Drives at Automate 2023
Featuring: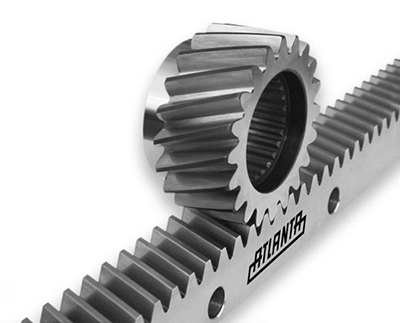 ATLANTA Drive Systems, Inc. (Booth #134) will showcase their standard Rack & Pinion Drives during Automate 2023 at Huntington Place Convention Center in Detroit, MI, May 22 - 25, 2023.
ATLANTA Rack & Pinion Drives consist of both helical & straight (spur) tooth versions, in an assortment of sizes, materials and quality levels. They are perfect for a wide range of applications, including axis drives requiring precise positioning & repeatability, traveling gantries & columns, pick & place robots, CNC routers and material handling systems.
ATLANTA now offers "digital" gear racks and an Industry 4.0 smartphone website that when used together can optimize the assembly of a multi gear rack system to minimize the cumulative pitch error and maximize positioning accuracy over the complete axis travel length.
A "digital" gear rack has a 2D matrix code (similar to a QR code) and serial number marked directly onto it to encode the gear rack production and measurement information. This transforms an ordinary gear rack into a "digital" gear rack with smart drive technology built in.
For more information, contact ATLANTA Drive Systems at: (800) 505-1715, or on the web at: www.atlantadrives.com.
Back to Exhibitor News