Aformic AMR-based intralogistics solution for flexible manufacturing at Automate 2023
Featuring:
Duncan, South Carolina, May 16, 2023 – Aformic, leading AMR technology provider, will open its showroom of Formica autonomous mobile robots and smart intralogistics solutions during Automate 2023, the largest exhibition of automation in North America, taking place from May 22nd to 25th in Detroit, USA.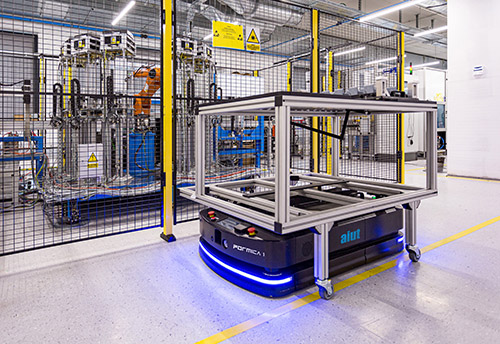 As part of the AIUT Group, one of the largest European integrators of robotics and automation solutions, Aformic is implementing innovative intralogistics solutions in the North American market. Understanding the needs of smart factories in terms of increasing production flexibility and automating goods delivery, Aformic delivers a comprehensive intelligent intralogistics system based on customized autonomous mobile robots (AMRs). The company will showcase its solution, including latest AMR Formica's models, at booth 2850 during Automate 2023.

"The Aformic smart robotics solution is a proven choice for real-time intralogistics management, by providing automation in material handling to reduce operational expenses and increase efficiency in manufacturing and warehouse processes", said Tommie Watts, Vice President of Sales and Automation of Aformic.
The solution includes an AI-powered integrated software management system called Qursor, as well as customized next-generation autonomous mobile robots from the Formica series. The innovative Aformic logistics platform provides comprehensive automation and control of internal transportation operations in industrial plants and warehouses. Aformic's unique business strategy aims to perfectly tailor the solution to the individual needs of each company. Customization applies to both the software system and the mobile robots from the Formica family, as well as other devices and equipment that are part of the vehicle's setup.

"We offer a flexible and comprehensive intralogistics system that is tailored to the needs and the character of your facility. Our AMR robots provide efficient, unmanned transportation of any load, thus maximizing the efficiency of logistics operations in manufacturing plants. They easily optimize material handling in warehouse and distribution centers. This enables more responsive and agile production processes", says Tommie Watts.
The Aformic solution offers highly developed Formica robots that use advanced sensors and mapping technology to adjust real-time maps of the environment and modify their paths in response to changes in the environment, such as obstacles or new paths.

"Our robots are implemented using process simulation to test and optimize their behavior in virtual environments. Aformic's AMRs move materials and products around a factory floor, adapting to changing production needs and minimizing the need for human intervention", said Vice President of Aformic.

A digital ecosystem to increase efficiency and profitability

"With over 30 years of industrial engineering expertise, we see the future of manufacturing with the bigger picture in mind. Turning a production facility into a Smart Factory requires solutions and technologies that will combine production and intralogistics, building one coherent automated and digitalized ecosystem. Its important element will be mobile robots, which will play a key role in the future of many industries. That is why we have designed a comprehensive, advanced intralogistics AMR-based solution that opens up new possibilities in the field of material handling and flexible production," said Marek Gabrys, President of AIUT Group.

Aformic intralogistics solutions can be fully integrated with plant systems, enabling smooth flow of information, efficient and error-free deliveries by AMRs in a dynamic environment. The system manages transporting operations without the need for operator supervision by intelligently adapting
to varying environmental conditions and the current task hierarchy set by production and warehouse systems.
Another innovation is the possibility of extending the competencies of Aformic system to all logistics processes within a company. Built in accordance with the idea of Industry 4.0, the system enables management of all intralogistics processes - this includes robotic deliveries (AMR) and traditional transportation carried out by forklifts (if such transportation systems appear).
An integral part of the solution is system simulation & virtual commissioning that allows us to estimate the real costs of physical implementation of the system and return on investment (ROI test). This makes it possible to optimize flows and routes as well as to select solutions (vehicles) and their proper configuration - even before the actual implementation.
About Aformic
Aformic Inc. is a robotics smart solution provider that brings intralogistics operations to a higher standard. An innovative, comprehensive software platform with factory fleet management combined with a family of customized transportation robots is now within reach to serve your business needs. As a subsidiary of AIUT, a Poland-based, international provider of integrated solutions for industry, Aformic Inc. has been established as a local engineering center to provide real-time support, development, and assistance throughout the entire system life cycle. With over 30 years of industrial engineering expertise, AIUT delivers advanced solutions in the automation and robotization of industrial processes, as well as state-of-the-art EAM/CMMS asset management systems.
Back to Exhibitor News