Teledyne Imaging to present its latest vision solutions at Automate Forward Virtual Conference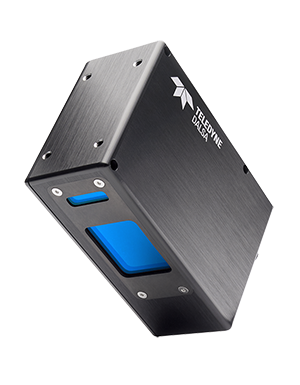 Waterloo, CANADA – Teledyne Imaging, a part of Teledyne Technologies [NYSE: TDY], and global leader in machine vision technology, will showcase their newest technologies at the Automate Forward Trade Show and Conference taking place March 22-26, 2021. Visitors to the virtual event can expect a wide range of new products and innovative solutions for robotics and automation. Product specialists will be available to text and video chat with you about your specific requirements.
Teledyne keynote and technology presentations
On Tuesday, March 23, 2:30 - 3 pm, Teledyne Imaging's Jean Brunelle will present Non-Visible Imaging, a presentation featuring high temperature radiometric measurements and new advances in thermal NDT inspections. On Friday, March 26, 3 - 4 pm catch the Machine Vision Standards Briefing, where both Mike Miethig and Eric Bourbonnais will speak on Camera Link HS and GigE Vision standards respectively.
New products introduced by Teledyne Imaging companies at Automate Forward
Z-TrakTM2 - the newest family of 3D profile sensors delivering up to 45k profiles/sec. Built on Teledyne Imaging's 3D image sensor technology, Z-Trak2 ushers in a new era of 5GigE 3D profile sensors for high-speed, in-line 3D applications.
Calibir GX LWIR camera family - with great sensitivity in longwave infrared range (8-12 µm), the cameras feature both shutter and shutterless operation and rapid image output on power up while delivering uniform response over the entire operating temperature range. Calibir GX LWIR series cameras are an ideal component for thermal imaging systems requiring uninterrupted image acquisition.
Genie Nano and Lt Series area scan cameras - a broad and deep camera selection to meet the challenges of today's imaging applications. These cameras use the latest sensor technology (from 1.7 to 67 MP) and offer support for a variety of interfaces from GigE Vision (1 to 5 GigE) and USB3 Vision, to Camera Link, Camera Link HS, and CoaXPress – allowing seamless integration with virtually any imaging system.
Vision Systems - from vision application software with Sherlock™ and Inspect™, to vision sensors with BOA™ Spot, to single-point inspection systems with BOA2, to multi-point inspection systems with VICORE™, these scalable vision systems satisfy a wide range of inspection application needs.

About Teledyne
Teledyne Imaging is a group of leading edge companies aligned under the Teledyne Technologies [TDY] umbrella. Teledyne Imaging forms an unrivalled collective of expertise across the spectrum with decades of experience. Individually, each company offers best-in-class solutions. Together, they combine and leverage each other's strengths to provide the deepest, widest imaging and related technology portfolio in the world. From aerospace through industrial inspection, scientific research, spectroscopy, radiography and radiotherapy, geospatial surveying, and advanced MEMS and semiconductor solutions, Teledyne Imaging offers worldwide customer support and the technical expertise to handle the toughest tasks. Their tools, technologies, and vision solutions are built to deliver to their customers a unique and competitive advantage.
Contact
Jessica Broom
+ 44 (0)1245 453607
Back to Exhibitor News