ATI Industrial Automation's QC-7 Robotic Tool Changer is a feature-packed solution for automatic end-effector exchange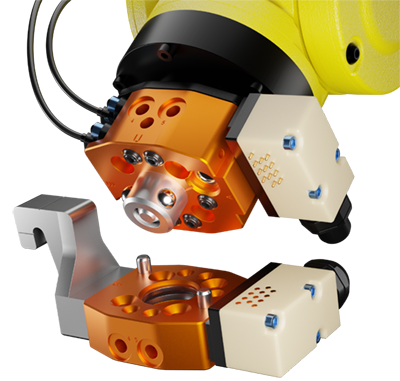 APEX, N.C. – ATI Industrial Automation has developed a new standard robotic tool changing and storage solution; the QC-7 Robotic Tool Changer. This lightweight yet durable tool changer offers a variety of configuration options with ATI's Pass-Through Utility Modules and Tool Stand systems. An optional ML12 Electrical Module attaches easily to the QC-7 Tool Changer body, which also includes five pass-through air ports and lock/unlock air fittings.
The QC-7 Robotic Tool Changer features a low stack height and mounts directly to ISO 9409-1-31.5-4-M5 robot wrists. This tool changer is compatible with ATI's modular Tool Stands and has an optional tool storage hook to make robot programming easy.
The pneumatically-actuated QC-7 features No-Touch locking technology and a patented Fail-Safe locking mechanism for a secure connection between the master and tool. The design integrates lock/unlock sensors without the need for an additional interface plate. This tool changer handles payloads up to 35 lbs (16 kg) and is compatible with variety of industrial and collaborative robot models. For more information about this product, visit www.ati-ia.com/QC7.
About ATI Industrial Automation
ATI Industrial Automation is the world's leading engineering-based developer of robotic accessories and robot arm tooling including Robotic Tool Changers, Multi-Axis Force/Torque Sensing Systems, Material Removal Tools, Utility Couplers, Manual Tool Changers, Robotic Collision Sensors and Compliance Devices. Their robotic end-effector products are found in thousands of applications around the world. Manufactured entirely in the USA, ATI products enable customers to achieve a high level of flexibility in robotic automation. Their flagship product is the Robotic Tool Changer, a robotic wrist coupling that locks and unlocks automatically, allowing a single robot to perform many different tasks. ATI products can be found at some of the world's most renowned corporations and organizations including NASA, Ford, Honda and Johns Hopkins University. For more information, visit ATI at: www.ati-ia.com.
Company contact:
Charles Haines
919-772-0115 x137
Back to Exhibitor News